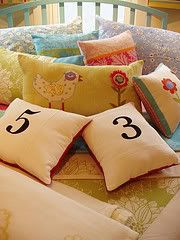 Throw pillows have been used and 'abused' by many people including homemakers.
They have many uses. For one, they are used by kids to play; throwing
throw pillows at one another is much fun for growing kids and teenagers. Sometimes some Dads and Moms also throw pillows at one another but not for fun. He, he! But, kidding aside, throw pillows truly are useful to the homemaker.
One of the most important role of a throw pillow is for accent. Accent pillows or "toss" pillows are used for decorative purposes to bring life to an, otherwise, drab sofa or chair, to add color and volume to beds as the centerpiece of the bedroom, and to add texture to a corner of a room. Throw pillow cases are made of different fabrics and designs. Many housewives have made the hobby of cross-stitching or embroidering these throw pillow cases to pass the time and to express their love for crafts. Also, throw pillows come in many sizes and shapes. Many big ones are used as furniture; two, piled-up together, can make a comfortable seat in a small living room, bedroom, den, or a home entertainment room.
All photos courtesy of Photobucket
Another use of throw pillows are for hugging and comfort. Fluffy ones are used mostly in bed for hugging and used as anchors to legs. Others use them as pillows for guests who sleep in the sofa or in guest beds with no pillows. Placing a throw pillow in your back while sitting in bed to watch t.v. also gives comfort and relaxation.
I know any home do have at least one throw pillow or a pair. How many do you have?