Outdoor Lighting, for Security and Ambiance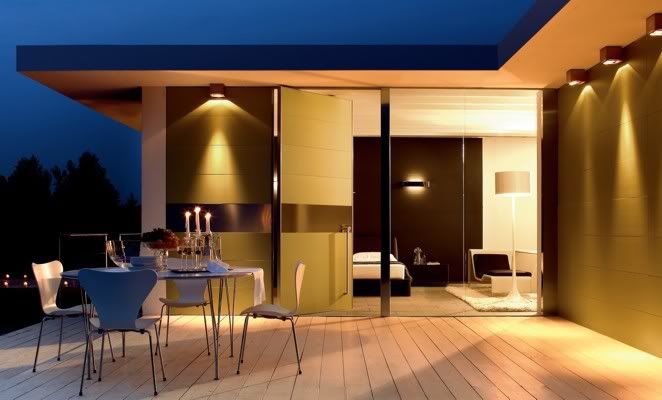 Last week, we tackled about indoor lighting; therefore, it is always good to follow it up with Outdoor Lighting.
Outdoor Lighting is basically necessary at night time for the security of our home by providing the necessary illumination for walkways, steps and entrances. With the increase of prevalent crimes in our cities, we need to light up our garage, our front and back doors, our gardens to discourage car-nappers and thieves to enter our homes.
Not only for outsiders, outdoor lighting is needed for our own safety illuminating our walkways so we won't have to walk in the dark. But outdoor lighting also gives ambiance to our homes at night. It creates artistry and drama as visitors approach our home. It also improves the beauty of our home's exterior and landscape and creates a sense of modernity and liveliness. The perfect example for this is when we put multicolored, blinking lights and lanterns during Christmas season in our garden and in the exterior of our homes. These set the mood and the atmosphere of the season.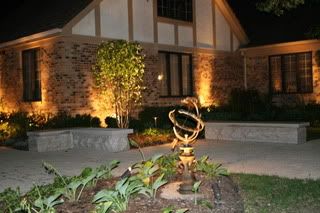 Floodlighting is a kind of outdoor lighting that is used in walkways, entrances and steps. Silhouetting is used to provide dramatic effects on a broad surface like a wall, behind a landscape feature such as bushes and pool. However, lights and cables should be installed at least 5 feet from the edge of a swimming pool. Low-voltage (12 volts is safe) landscape lighting is recommended for use in trees, shrubs and flowers.
Today, solar-powered outdoor lighting is one of the most efficient methods of outdoor lighting and undoubtedly, the most cost efficient, according to Hubpages (http://hubpages.com/) with solar-powered light. You don't have to worry about the wiring and it automatically turns off during the day. These are now available in the Philippines but I think, you have to order and it takes some time to arrive. If you are only using it for outdoor lighting, you don't need large panels; all you need is to place the fixtures in a position that they get a good amount of sunlight and make sure that nothing is blocking it from getting the sun at any point. I found in http://bacoor.olx.com.ph/ a Solar Security Light with infrared sensor and LED lights, built-in 5 in 1 rechargeable battery pack for Php2,350. But I'm pretty sure that the amount of money you will save from electricity will be more than this initial cost.