EVERYTHING UNDER THE SUN:
Fashion Do's and Don'ts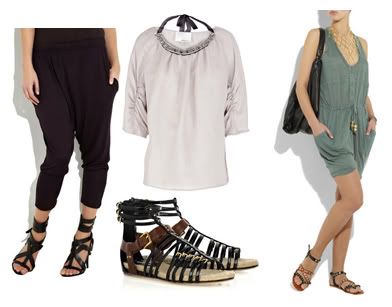 I'm no fashion expert but I think it's time to discuss this. I found a great video web page (
http://www.videojug.com/interview/fashion-fundamentals-3
) that gives us simple fashion tips that are practical for us, everyday women. The video is an interview with Ms. Jess Zaino, a style expert.
So many fashion trends, so many fads, so many rules, sometimes we can't catch up if we want to be trendy. However, fashion trends keep coming back but combined with simple modern flair. For example, the mini's, the Audrey Hepburn look styled into evening wears, the bell-bottom pants, the flats, etc. But according to Ms. Zaino, timeless fashion do's include great fits, meaning the fit is important as the style itself. Several fashion do's or must-haves, she says, include a great suit, great pants, a v-neck cashmere sweater, great tee shirts that are fitted wonderfully to your body in the basic colors like navy, white, gray and black, a great pair of shoes and a signature accessory. My own fashion do's include, yes, tee shirts, but also great jeans, summer dresses, cool blouses and pants, and the basic evening dress which may or may not be black--all for the hot Philippine weather. Ms. Zaino further adds that we should stick to what's classic and simple and you'll be chic forever.
Now, for the biggest fashion don'ts, Ms. Zaino said: Don't go out of the house looking sloppy; Don't wear sweat pants (unless you're exercising); Don't wear things that are ill-fitting; Don't wear things that show-off too much information, like a thong in a low-rise jeans or very low neckline showing off your great chest.
Here's what's more interesting. The following are various terminologies that the fashion world are now using which are no-no's to fashion:
"Wedgie"
--this means that the material of your clothes rides up the person's behind (gluteus maximus) or when your underwear goes up your behind.
"Muffin-top" -- When a woman wears way-below-the-hips that the fat tends to roll up the tight jeans and lodge over the ope to create an illusion of a muffin top. He, he. When I wear my low-rise jeans, I have that, but I hide it with long blouse. Shhh...
"Behind cleavage" -- You know what I mean because I can't write the "b...tt "word here. This behind cleavage is seen when a woman sits with her low-rise jeans showing off her thongs in between her behind.
"Wardrobe malfunction" --this word was coined by Janet Jackson when she inadvertently flashed the half side of her chest at the Super Bowl a few years ago. Therefore, check your wardrobe before wearing them so you won't have any accidents such as this showing off inner parts to the world.


"Mono B...b" --Sometimes, we wear too tight bras that the bra pushes our frontal parts in the middle of the shirt creating a single chest component.
"Back B...b" --This one comes out when a woman wears too tight bra that the extra fat at the back kind-a spills creating a roll at the back.
These words basically describe fashion conditions which we don't want to be in. However, some of us do, yet there are ways which we can style our clothes to hide these imperfections. The problem is, sometimes, women tend to go for the fashion trend rather than for a great look. Sometimes, they know they have a problem, in certain areas yet they still insist on wearing those clothes that are too tight and too low that they tend to show the parts that should not be shown.