FOOD AND HEALTH:

Health Benefits of Spa Treatment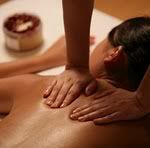 Before anything else, I'm so thankful that everything's back to normal after the storm in our area and I'm back to blogging and visiting my friends' sites. Well, here goes...
Coming back from a hectic business trip from HongKong a few months ago, my husband and I decided our bodies needed massage. So after arriving from the airport, unpacking, and having dinner, we took hot showers and headed to one of the spas in our area. One good thing about Aguirre Avenue in BF Homes Parañaque is that it is lined with sooo many spas that offer full body massages of your choice--Shiatsu, Swedish, Thai, Reflexology, etc., or a combination-- and foot, back or combination massages. The price? Well, a full body massage in our area cost around Php250 to 300 while a foot reflexology massage, the same price.


The spa in Dusit Thani Hotel in Makati
After a hectic day, many women, and even men, are drawn to health and wellness centers just to seek even an hour or so of reprieve from their busy schedules just to relax their minds and body through the soothing massages of heavenly hands. Entering a spa or facial center, the atmosphere is so inviting to relax and sleep. Simple furniture, simple plants against dim lights invite guests to the entrance of the place. The smell of eucalyptus oil makes you feel all your phlegm will be expelled in that place while the soft tweeting of the birds in the piped-in music makes you want to lie down and sleep already. Well, you have to drink your herbal tea first while they fix the room or bed for you.
These are all intriguing but is there any health benefit to a spa treatment or massage? Of course, there is, and actually there are for there are many. Here are the benefits of a massage according to About.com (
http://spas.about.com/od/massa2/a/massagebenefits.htm
):
1) Massage can help maintain physical, mental, and emotional well-being, especially when it is part of your regular wellness routine.
2) Massage calms the nervous system and promotes sense of relaxation and well-being.
3) Massage reduces tension and anxiety.
4) Massage improves blood circulation, which delivers oxygen and nutrients to the cells
5) Massage stimulates the lymphatic system which carries away the body's waste products.
6) Massage prevents and relieves muscle cramps and spasms.
7) Massage therapy can help with pain management in conditions such as arthritis, sciatica, and muscle spasms.
Remember, though, that it is not a good idea to have a massage when you have an inflammation, fever, infection or any other medical condition.